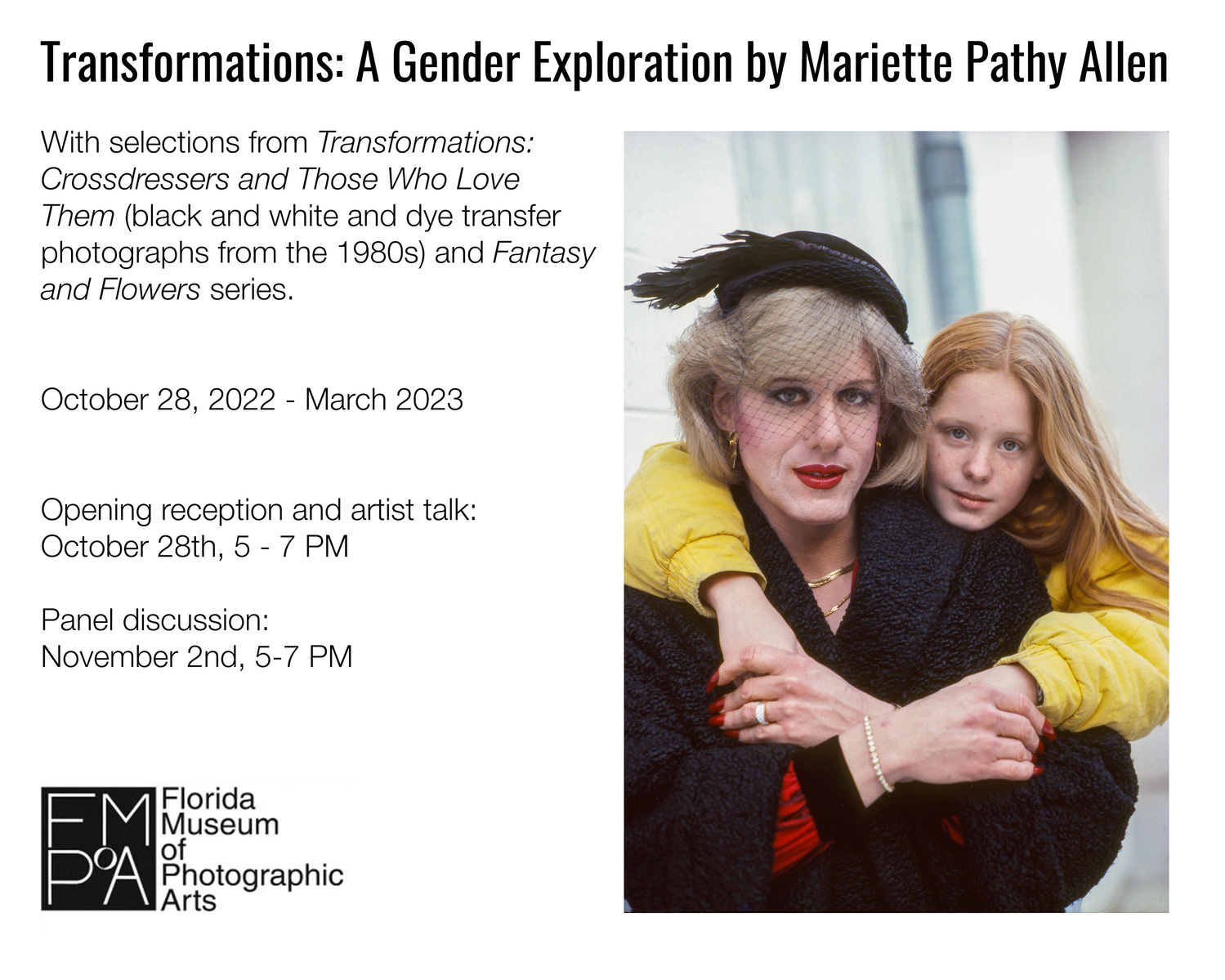 The Florida Museum of Photographic Arts presents
Transformations: A Gender Exploration
by Mariette Pathy Allen
TAMPA, Fla.— The Florida Museum of Photographic Arts (FMoPA) Invites the Tampa Bay community to view the work of Mariette Pathy Allen, a photographer who has captured the transgender, genderfluid, and intersex communities for over 40 years. Curated by: Kayla MacPhee
Located next to the Sykes building on the banks of the Hillsborough River in downtown Tampa, FMoPA allows patrons to enjoy an amazing collection of art, as well as beautiful scenery with the Tampa Riverwalk right outside the front door. FMoPA prides itself as an institution that is dedicated to exhibiting influential photographic art as being central to contemporary life and culture. The museum showcases multiple styles of photography to portray the intricacies of the medium as well as enrich the greater Tampa Bay community. To stay true to its mission FMoPA has begun work with Mariette Pathy Allen, a New-York based photographer who has been capturing the lifestyle, culture and challenges of the LGBTQ+ community since the late 1970s.
Mariette Pathy Allen has been photographing the transgender community for over 40 years. Through her artistic practice, she has been a pioneering force in gender consciousness, contributing to numerous cultural and academic publications about gender variance and lecturing throughout the globe. Her first book "Transformations: Crossdressers and Those Who Love Them" was groundbreaking in its investigation of a misunderstood community. Her second book, "The Gender Frontier," is a collection of photographs, interviews, and essays covering political activism, youth, and the range of people that identify as transgender in mainland USA. Daylight books published Mariette's books "TransCuba" in 2014, and "Transcendents: Spirit Mediums in Burma and Thailand" in 2017. Mariette has exhibited internationally and her work is included in numerous collections, both public and private. Mariette is represented by CLAMP in New York City, and her work is being archived by Duke University.

In addition to her work on gender, her experience as a painter leads her photography to frequently explore color, space and cultural contrasts like east/west, new/old and handmade/manufactured. This exhibition is a tribute to her life's work and the continual fight for gender exploration. It will feature selections from Transformations: Crossdressers and Those Who Love Them and the Fantasy & Flowersseries.
Join us for the opening reception and artist talk on October 28 from 5 pm to 7 pm.
The exhibition will be on view from October 2022 until March 2023.
To learn more about the exhibition visit: https://www.fmopa.org/mariette-pathy-allen-transformations/
For more information about Mariette Pathy Allen visit: https://www.mariettepathyallen.com/
About the Florida Museum of Photographic Arts
Florida Museum of Photographic Arts (FMoPA) is a museum dedicated to exhibiting influential photographic art as central to contemporary life and culture. FMoPA also enriches the community by operating outreach programs to educate children and adults. Founded in 2001, FMoPA occupies the atrium of the architecturally significant Cube building in Tampa's Waterfront Arts District. FMoPA is one of fewer than ten museums in the United States dedicated exclusively to photography and one of two such museums in Florida. In addition, the museum is home to high-impact community programs, such as the Children's Literacy through Photography program for at-risk children and adult photography classes, workshops, and children's summer camps. For more information, please visit www.fmopa.org.